Here we show you how easy it is to name a star. Please follow these steps
Please select the desired design for your certificate. We have different designs, each suitable for different occasions. On the left you can see the certificates and can choose one of them. If you buy more than 1 star, you can of course select different designs for each star deed.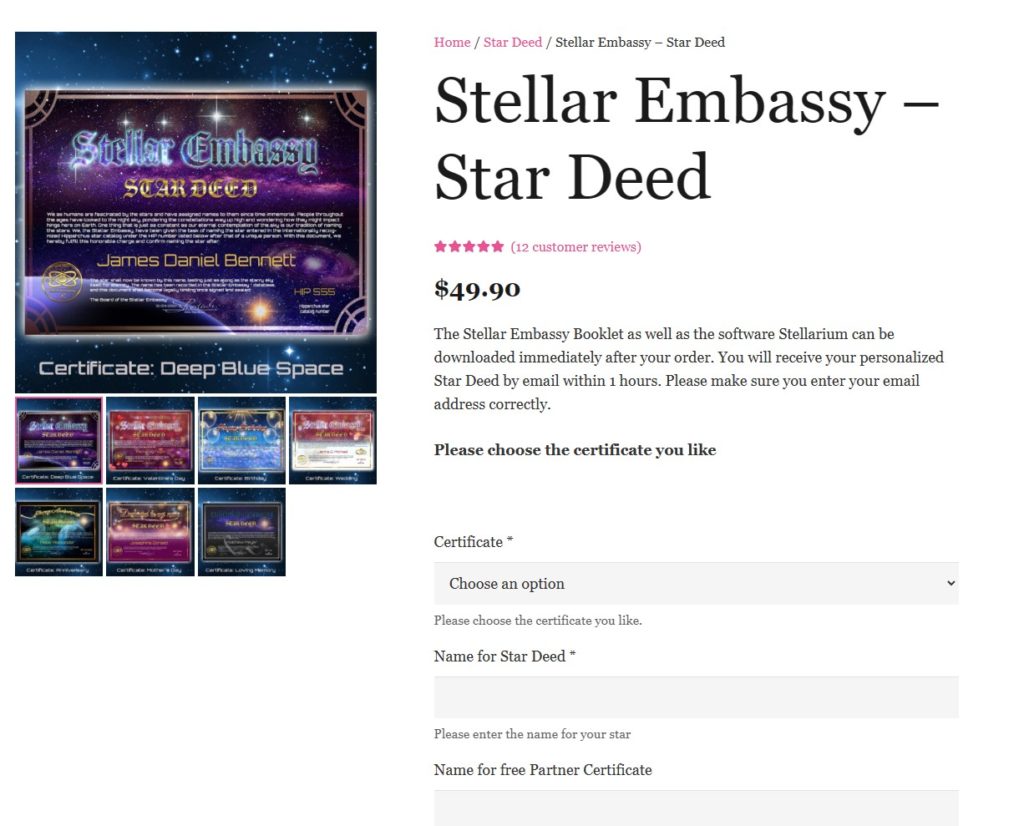 Now please enter the name for the star. The first name is for the main certificate. We are also happy to issue another certificate free of charge. You can then order further certificates. For example a main certificate for "Family Connor" and further certificates for each family member.
2 or more stars
If you want to order 2 or more stars, please add the first one to the shopping cart. The name fields are now empty and you can enter the next name. Then put it in the shopping cart – fields are empty again – and so on until you have your 2 or 4 stars in total. Please note that "additional certificates" are not individual stars, but only additional certificates to the star that you currently configure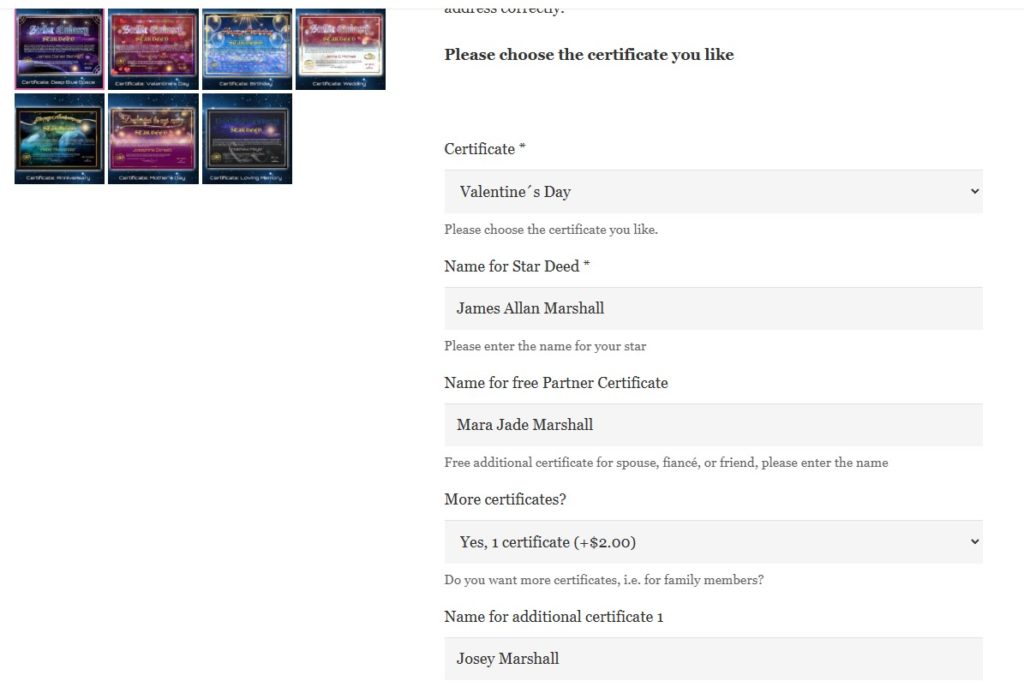 You will now see your shopping cart. If you have a voucher, you can redeem it here. The corresponding field is on the left below the article view. Please make sure that your voucher has been redeemed and then click on "Proceed to check out".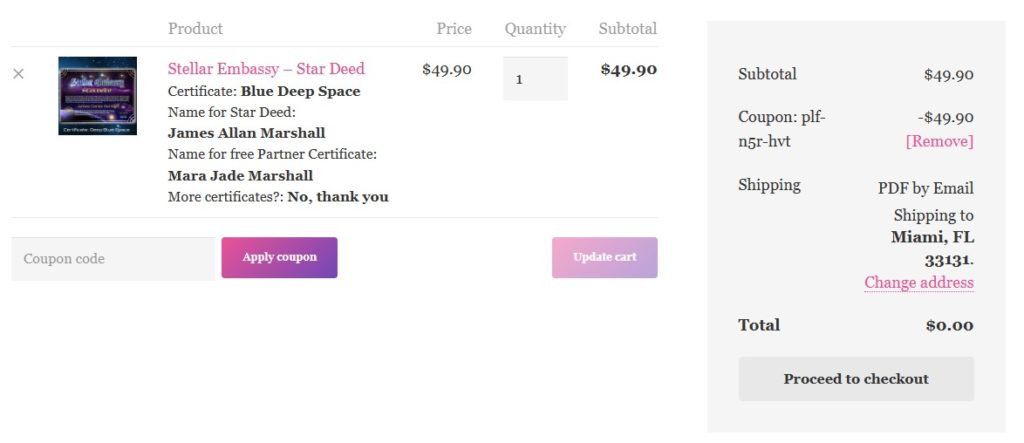 This takes you to your order confirmation page. Here you can already download everything. Your certificate will also be created in a short time and then sent to you by email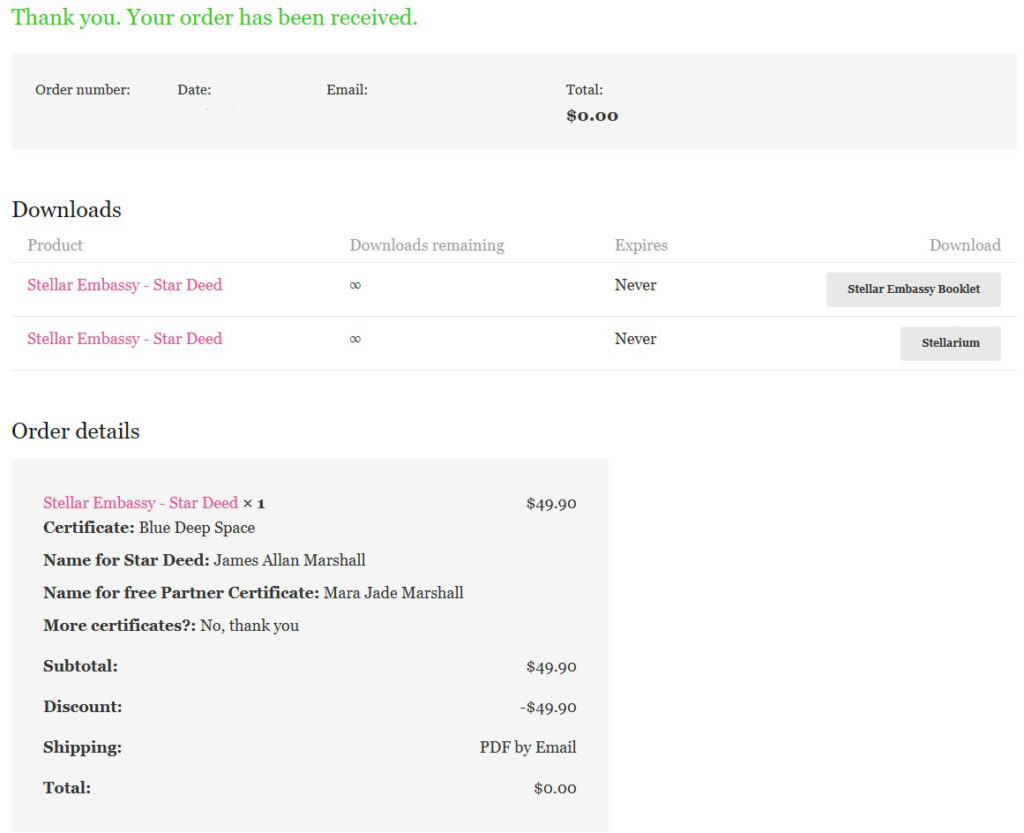 No shipping, no costs
We think that from an ecological point of view it is irresponsible to send something over hundreds or thousends of miles  criss-crossing the United States what can easily be printed by your own. Therefore, we send your certificates and booklet by email as pdf. You have your order immediately in hand and can print it. Another advantage is that you can print the certificate in any desired size, i.e. in letter format or as a poster, on photo paper or special certificate paper, everything works. Isn't that much nicer than paying expensive shipping costs and waiting?